~ The Social Diary ~
~~~~~~~~~~~~~~~~~~~~~~~~~~~~~~~~~~~~~~~~~~~~~~~~~~
An Interview of FCC Star Designer -
J. Jenniene Couture by Jemima Garcia
"My goal is to be able to provide well made garments with a unique flair for people, and dogs, who love fashion."

April 2nd , 2007
The Social Diary Columnist & Photographer Margo Schwab
(high resolution photos available by request )
TSD - The Social Diary is pleased to introduce you to a rising star in the fashion design industry.
TSD– When did your interest start in design and sewing?
Jemima - I first began sewing as a little girl. I used to make outfits for my Barbie's all the time, I always had an interest in fashion and trends so I used to try to sketch things I wanted to make for them. My mom used to sew a little, and I always loved watching how something wonderful could come from just a little piece of fabric. I learned the basics of sewing from her, and I learned how to crochet from my grandmother, which I think helped my creative process as I grew older. I took sewing in Jr. High and high school; I put on fashion shows in our school auditorium which was a lot of fun. I guess fashion was always my calling since it was something I enjoy doing and am passionate about.
TSD - What designers do you admire most?
Jemima - Christian Dior, Oscar De la Renta, Carolina Herrera, Coco Chanel, Elsa Schiaparelli, and Ralph Lauren. Each of these designers have had quite an impact on fashion and they each have a classic elegance to their designs with a bit of variety and excitement, which I feel makes them timeless.
TSD - What do you enjoy designing?
Jemima - I enjoy designing things that are one of a kind, be it a hand beaded evening gown to a fun flirty party dress. In addition to apparel, I also enjoy designing custom pillows for the home, and some wedding accessories as well. However, the most recent thing I designed that was a lot of fun was creating a special wedding gown for Kima the Canine Connoisseur!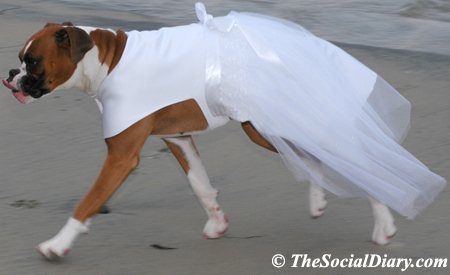 TSD - You graduated from FCC… what were your most valuable lessons learned from them
Jemima -FCC was a great school. Among the lessons I learned from them the most valuable were the importance of networking with fellow designers, and that hard work and dedication really does pay off in the end.
TSD - What was it like to see your designs modeled on the runway for the Golden Hanger Awards?

Jemima -Finally being able to see my dresses come to life on the runway was great! Also being one of the few chosen to design for the Make-A-Wish segment was an honor. I was able to use all the tools I learned to make real clothes for real people and it was a great feeling to see it all come together on stage.
TSD - For the Golden Hanger's, you were the bridal finale… that's a big honor right?
Jemima - When I found out that I was going to be the Grande finale I was very excited. Being the last designer to show was an honor for me because I feel that the last one is usually the one which is most remembered, and the song they chose for my segment "You were always on my mind" was well suited. I was also lucky enough to be interviewed by 944 Magazine to talk a little about my designs!
TSD - What are you doing presently?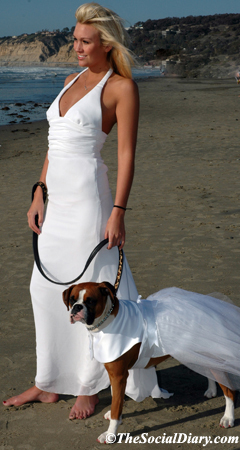 bridal gowns designed by Jemima
Jemima - Presently I am designing for private clients which is a lot of fun. I have also done some designing and modeling for a couple of local fashion venues. I am currently learning how to make hats. My hat making instructor is the renowned Diana Cavagnaro. I soon hope to add hats to my list of design services for prospective clients.
TSD - Where would you like to be in 10 years with your design career?
Jemima - In 10 years I hope to be a successful designer with my own line or a boutique specializing in one of a kind fashion; most likely evening wear or specialty clothing. My goal is to be able to provide well made garments with a unique flair for people, and dogs, who love fashion.
* Margo Schwab has produced, written, interviewed and photographed for various media organizations since 1989. Schwab has a B.A. from Scripps College and a Masters of Business degree, M.B.A., from the University of San Diego. Schwab volunteers for numerous charity organizations. She also continues to lobby for water safety and for family violence mitigation. Schwab is the editor of The Social Diary. Margo is currently writing a book based on La Jolla.
back to New this Week.....Margo Schwab Archives...... Home
Warning ** photos, video and writing on this site are the
copyright of The Social Diary, San Diego Social Diary, margomargo.com and Margo Schwab.
no reproduction of any part or parts is allowed without written permission by Margo Schwab