Where Pets Are Always In Style.....

~ The Social Diary ~
the on-line magazine covering High Society ..& more
____________________________________________________________
The Buzz - July 21st, 2006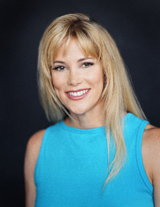 photo credit - Jeremiah Sullivan
July 21st, 2006
The Social Diary Columnist & Photographer Margo Schwab
All shark photos are the copyright and photo credit of Jeremiah Sullivan and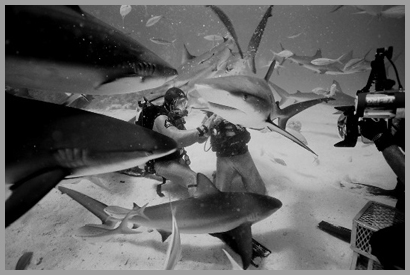 And you thought your job was dangerous. Check this out. This is Jeremiah Sullivan in the midst of a shark frenzie. These shots were taken while Jeremiah was filming for Discovery Channel's upcoming "Dirty Jobs That Bite Harder," a special show for Shark Week. Air date, Friday August 4th, 9-10 p.m. ET/PT . It's a World Premiere and promises quite a bit of excitement.....and biting remarks!
'The Buzz' is that Jeremiah and a few very sizeable Caribbean Reef Sharks got into quite the real life tussle. A whole lot of biting, ramming and aggressive killer shark behavior.Thanks to Jeremiah's brilliant and inventive chain mail engineering of his NEPTUNIC SHARKSUITSTM , you can see that his body is intact and unharmed. Just shaken and stirred like the "007 of shark wranglers and marine biologist researchers" he is.
Look for more on Jeremiah on Good Morning America too this Tuesday morning, July 25th, 2006.
Shark Week 2006 airs July 30th through August 4th
All shark photos are the copyright and photo credit of Jeremiah Sullivan and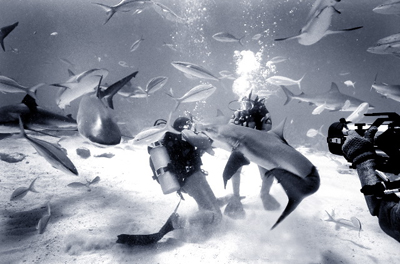 Jeremiah emerging, body intact.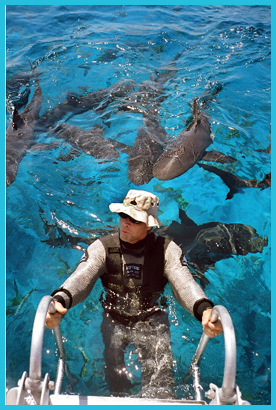 From the surf to the turf. It wouldn't be Summer without Opening Day at the Races. Make sure to check out the fun and the fashionable coverage. The Del Mar Thoroughbred Club has added some 'thoroughly fun' social events too this season - not to be missed!
And a Special Commendation Award went to Officer Scott Johnston from the Office of Scott Peters, Council President and District 1 Councilman July 6th, 2006. The award reflected Officer Scott Johnston's 28 and 1/2 years of diligent service for the San Diego Police Department. Officer Johnston received a thunderous standing ovation by members of the La Jolla community. Mary Coakley had this to add. "CONGRATULATIONS to Scott...and THANK YOU for caring about our community!!!"
And from Jeanine Naviaux, "I'm so glad that Scott received the commendation. I only wished I could have attended the ceremony!!"
pictured here - Lt. Brian Ahearn congratulating Officer Scott Johnston on his Commendation. Chanelle S. Barry, Esq., Council Representative/ Policy Analyst to Council President Scott Peters after presenting the Commendation to Officer Scott Johnston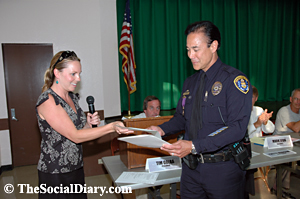 Officer Scott Johnston being congratulated by Paul Schwab and Shirley Schwab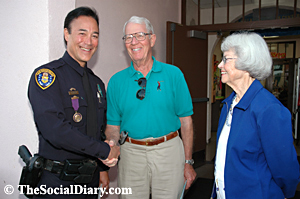 .......meanwhile across town on the U.S.S. Midway....
Radio Personality and Special Event's emcee Jeff Gelder had this to remark about a recent San Diego Human Dignity Foundation event. "The San Diego Human Dignity Foundation's Fundraising Gala, with the South Pacific theme and aboard the U.S.S. Midway, was a spectacular event! Over 500 people attended and enjoyed delicious tropical style foods, great entertainment from South Pacific and an amazing silent auction which included a weeks stay at a private mansion in Hawaii! The atmosphere was perfect on a summer night on the flight deck of the Midway."
Speaking of Summer nights, a perfect glass of wine goes well with a beautiful sunset. Check out The Gary Parker Collection - June, 2006 Selections. As Gary puts it, "since the 16th century, the cellars at Argiano have been keeping Brunello di Montalcino's in a peaceful, perfect place for their storing and aging. The castle itself is quite remarkable," ........ read more on Gary's link above.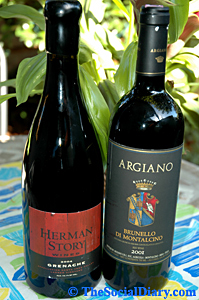 And the Patrons of the Prado landed guests back in the day of Casablanca. All for good causes. Event Chairperson Ellen Zinn summed the night up well. "Snake charmers, pick pockets, magicians, belly dancers, nude models and even a camel named Cloyed. We pull out all the stops to make sure people have a great time, and they do!" View all of the fun on the 24th - You can see photos and write up by clicking Casablanca.

And please welcome columnist Elizabeth Bateman to The Social Diary. Elizabeth's first column is on real realities of sociopath's' lack of reality. Reality too is the staggering number of sociopaths among us.
And mark your social calendars for the 15th Annual Golf Tournament at La Costa Resort & Spa. - San Diego Crime Stoppers Board Member, Steve Bonker, describes the event as, "A great chance to play one of San Diego's finest courses and support an important charity at the same time." - click Golf .... for more information.
That's 'The Buzz' for now. Have a great week!
Warning ** photos, video and writing on this site are the
copyright of the author, The Social Diary, San Diego Social Diary, margomargo.com and Margo Schwab.
no reproduction of any part or parts is allowed without written permission by Margo Schwab