~ The Social Diary ~
the on-line magazine covering High Society ..& more
____________________________________________________________
San Diego Opera Gala 2006 - Noche en Espana

February 1st, 2006
by the Social Diary Columnist & Photographer Margo Schwab
Page 2
The Gala menu also included a Sangria Station and select Spanish wines.Tapas, paella and Spanish libations were all carefully chosen by the expert tastes of Barbara Bloom, Colette Royston, Jeanne Jones, Iris Strauss and Executive Chef Fabrice Hardel.
And one couple got an unexpected surprise that evening. Mr. and Mrs. Tang won the door prize. And it's not just any door prize. It's a European getaway courtesy of The Dorchester Group. The Tang's will be enjoying three nights deluxe accommodation at the elegant Hotel Plaza Athenee in Paris, followed by three nights deluxe accommodations at the beautifully refurbished Dorchester Hotel in London. First Class Chunnel transportation included.
Christopher Cowdray, the General Manager of The Dorchester Group, was happy to donate this prize."The San Diego Opera should be congratulated on the outstanding performance of their production of The Barber of Seville. Events like these are only possible due to the enormous support from partners such as the Dow Divas and it was a great pleasure being able to meet them during my visit. The Dorchester Group is delighted to have been able to contribute to the Gala and take this opportunity of welcoming travellers from San Diego to our hotels in Paris, Milan, Beverly Hills and London."
(Pictured here are Fred Applegate and friend, Valerie and Harry Cooper, "The Halerie's," Noni Senyei and Lorna Alksne)
Great news too as it was announced that many patrons were being extra generous this year to the San Diego Opera. As always, Iris and Matthew Strauss and Joan Irwin Jacobs top the list in generosity. They are followed in their enthusiasm by Ingrid Hibben, Charmaine and Maurice Kaplan, Teresa and Harry Hixson, Teresa and Dr. Merle Fischlowitz, Esther J. Burnham, Carol and Bill Stensrud, Joan Kroc's estate, Pam Slater-Price and Hershel Price, The Grosvenors, Wanda and Fred Kaufman, William M. Ruddy, Conrad Prebys, Brenda Marsh-Rebelo and John Rebelo, Valerie and Harry Cooper, Lee and Frank Goldberg, Jeanne Jones and Don Breitenberg, Karen and Donald Cohn of Ballena Vista Farm, Gerry and Hugh Wolff, Pam and Martin Wygod, Sheryl and Harvey White, Kathryn and Royce Baker, Lynda and Richard Kerr, and so many more.
Some lucky patrons are invited to an exclusive party hosted by San Diego Opera Patrons, Peggy and Peter Preuss. The location, on the very posh The World cruise ship.
It would be remiss not to salute Iris Strauss, who has been President, San Diego Opera, for so many years. Iris's stewardship has been capable, and an invaluable force, to the success of the San Diego Opera. Many, many 'bravos' to all that Iris has done and given, for the San Diego Opera. Strauss has now handed the Presidency to an equally capable individual, Drew Senyei, M.D.
(Pictured here - Iris Strauss, the outgoing President, San Diego Opera, Drew Senyei, M.D., the new President, San Diego Opera, Supervisor Pam Slater-Price, Ian Campbell, General Director, San Diego Opera, Bill and Kathy Horn with Ann Campbell, Director of Strategic Planning, San Diego Opera)
(Pictured here - Joan Jacobs and Jeanne Jones)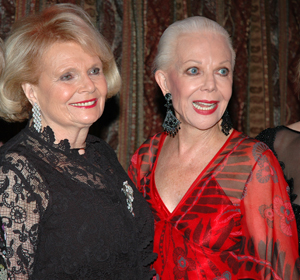 (Pictured here - Valerie Cooper wearing a Marc Bouwer gown with Iris Strauss who is wearing an Oscar de la Renta gown, Jessie and Joye Knight)
(Pictured here - Clinton Walters talking with Jeanne Jones, Noni Senyei and Sheryl White)
(Pictured here - Rose Marie Pipitone with Colette Royston, Lorna McKellar)
(Pictured here - Don and Karen Cohn, Sheryl White, Kathryn Fishback)
(Pictured here - Rana Sampson and Mayor Jerry Sanders, Bill and Kathy Horn, Supervisor Pam Slater-Price)
(Pictured here - John and Sally Thornton of Thornton Winery, with Paul James Baldwin, Mayor Jerry Sanders, Iris Strauss, Drew Senyei, M.D., Ian Campbell)
(Pictured here - Drew Senyei, M.D. with Supervisor Pam Slater-Price, Purple Heart awarded Scott Johnston, helping to cover this event)
(Pictured here - the Sycuan Resort & Casino catering team, some beautiful appetizers, and Sycuan Resort & Casino Executive Chef, Paul Schwab. Editor's note - ironically there are three Paul Schwabs in my immediate family, my brother, my Father and my Grandfather, who was Mayor of Beverly Hills '29-33. But this talented chef is not related, alas.)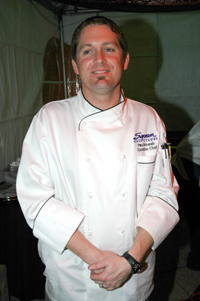 To learn more about the exciting events scheduled for the San Diego Opera season, please click on
Click here to Return to San Diego Opera Gala Page 1
More Parties.......Home
* Margo Schwab has produced, written, interviewed and photographed for various media organizations since 1989. Schwab has a B. A. degree from Scripps College and a Masters of Business degree from the University of San Diego. Schwab volunteers for numerous charity organizations. She also continues to lobby for water safety and for family violence mitigation. Schwab is the owner and publisher of The Social Diary.
Warning ** photos, video and writing on this site are the
copyright of the author, The Social Diary, San Diego Social Diary, margomargo.com and Margo Schwab.
no reproduction of any part or parts is allowed without written permission by Margo Schwab