~ The Social Diary ~
the on-line magazine covering High Society ..& more
____________________________________________________________
UCSD Fiesta De Las Estrellas 2006

April 26th, 2006
The Social Diary Columnist & Photographer Margo Schwab
The UCSD Hispanic Scholarship Council hosted a evening termed Fiesta de las Estrellas, or Celebration of Stars April 13th, 2006. It was all to benefit UCSD Undergraduate Latino Scholarships, and to honor Latino individuals who have made a noteworthy stamp on San Diego.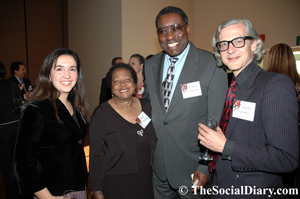 At the Price Center Ballroom, the event's reception started with zesty music by Gente Fina, and mingling among the night's designated estrellas. Honoree for Alumni Excellence Ricardo Antonio Chavira, got to catch up with his UCSD Fine Arts Professors and friends. Ricardo graduated from UCSD with his MFA in 2000. He is currently starring on ABC's hit show Desperate Housewives, with a litany of television and theatre roles filling the years. Ricardo also knows how to give back too. In honor of his mother, Ricardo is very involved with breast cancer fundraising. He is also his home town, San Antonio's, Honorary Spokesperson for the Susan G. Komen Breast Cancer Foundation.
Jose Betancourt, Rear Admiral, Retired, was awarded for his Excellence in Leadership. Along the path to helping military families and serving as Chief Administrative Officer for the San Diego City Schools, Jose earned the Defense Superior Service Medal, Legion of Merit and Bronze Star with the Navy. But that was just the start. Jose's path to Rear Admiral was, well, admirable. Stints as flag officer, Command at Sea, and Commander for the Southwest Region are a few of the highlights. Academic notes include master degrees from the Fletcher School of Law and Diplomacy, , Tufts University and the Industrial College of the Armed Forces and course work at Harvard University. He also has assisted minority children in their quest to compete for higher-level education.
Another Estrella, Irma Cota, was honored for Excellence in Healthcare. And for good reason. With 29 years of medical group management and program planning, Irma's strong leadership skills has led North County Health Services to achieve the JCAHO accreditation. Irma serves on local and statewide health positions as University Council member and Vice President for California State University at San Marcos as well as Speaker of the House, Chair of the Legislative Committee, and Member of the Executive Committee for California Primary Care Association. Irma has received numerous recognition for her efforts from San Diego State University, the San Diego Business Journal and more. However this evening's Estrella Award shines the light on her accomplishments, ever so brighter.
Estrella honoree Carmen Delgadillo was there with her family. Carmen was honored for Excellence in Community Service. Carmen started in Friends of Scott Foundation (FSF) in 2003, in memory of her son Scott's passing from leukemia. FSF is dedicated to aid children with cancer and their families. Among the services provided by FSF are the meal program, transportation funds, special events and activities, and the Scott Delgadillo scholarship program. Another mission of FSF is to enlighten the community regarding childhood cancer.
And this evening's Estrellas counted among them Rachel Humprheys, Founder of La Cuna. Noted for Excellence in Organizations, La Cuna was started by Rachel in 2004 with $35 and no supporters. The goal? To create the first Latino-oriented foster family agency for children up to 5 years of age, and to find the children loving stable homes. Rachel states, "I want the county to understand that we're here to help. I want La Cuna to be a word that all Latinos know and that all our local community members know so that we can make sure that babies don't slip through the cracks." And Rachel is accomplishing this mission. La Cuna very appropriately means "crib" in Spanish.
The night of Estrellas continued with a welcome by the current Miss World USA, Lisette Diaz. UCSD Vice Chancellor, Student Affairs Dr. Joseph W. Watson quipped just before her entrance, that everyone wanted a photo with Lisette. As Master of Ceremonies, Lisette was very impressive too. After all she is a Special Advocate for Voices for Children, and a Miss World speaker. She is using her many skills talking bilingually to teens as an advocate for education and personal responsibility. Lisette is also slated to graduate from UCSD with a literature major in 2007.
The evening continued with a delicious meal by the co-team of Waters Fine Catering and UCSD Catering. The Fiesta de la Estrellas feast included chipolte grilled garlic shrimp, braised short ribs with roasted yam and Yukon Gold puree, churritos, everyone's fave, and Kahlua pot du creme with strawberries. The braised short ribs were a hit. Seems quite a few people in the ballroom had a direct Texan / barbeque connection.
Those there enjoying stirring remarks from UCSD Chancellor Marye Anne Fox included Adriana Alcaraz, Pat and Bob Whalen, Claudia Ehrlich, Ginny Vollet, Pauline Thonnard, Kim Signoret-Paar, student speaker Susana Coronilla class of 2008, and Adrian Gutierrez.
Adrian Gutierrez, a UCSD Junior and a Hispanic Scholarship Council Chancellor's Scholar, stated "being Hispanic, we're underrepresented in the UC system, or higher-level education for that matter, so I felt that even with the barriers that held me back - financial and ethnic - that this scholarship meant I could represent my ethnic group. I got into UCLA and Berkeley, but this scholarship was the main reason why I chose UCSD."
Also there were Michael J. Perez, Esq. and Robert Villarreal, the event's Co-Chairs. In a joint statement they pointed out, "As a result of your dedicated pledge to the UCSD Hispanic Scholarship Council's mission, we are able to help our future leaders make their educational dreams a reality."
UCSD Hispanic Scholarship Council created Fiesta de las Estrellas to raise scholarship funds for students and to recognize achievements of the local community. All to provide a continuum of Latino community achievement.
Fiesta de las Estrellas has raised nearly $600,000 to provide undergraduate scholarships to 58 deserving students. Out of 20,679 total UCSD undergraduates in the fall quarter of 2005, 11% were Mexican American or Latino.
Sponsors for the 2006 Fiesta de las Estrellas program include Union Bank of California. 10News/Azteca America San Diego, Estrella Sponsors include Alan Swinney '89; BAE SYSTEMS; The Jack in the Box Foundation; Luce Forward, Hamilton & Scripps LLP; and Sempra Energy. Fiesta Sponsors are HSBC-North America, Darden Restaurants, Pérez & Wilson LLP, QUALCOMM Incorporated and Sycuan Resort & Casino. Community Sponsors include Amylin Pharmaceuticals, Inc.; Community Health Group; Cox Communications; Dudek and Associates; Gen-Probe, Inc; HDR Engineering, Inc.; Mike Najera; North Island Credit Union; San Ysidro Health Center; SDG&E; SDSU; Barbara Saltman; UCSD Chancellor's Office; UCSD Student Affairs; UCSD School ofMedicine and UCSD Resource Planning; Wachovia Education Finance; and Comerica/Washington Mutual.
Please visit www.studentsupport.ucsd.edu to learn more about how to get involved.
More Parties......Margo Schwab Archives........New This Week.......Home
* Margo Schwab has produced, written, interviewed and photographed for various media organizations since 1989. Schwab has a B.A. degree from Scripps College and a Masters of Business degree from the University of San Diego. Schwab volunteers for numerous charity organizations. She also continues to lobby for water safety and for family violence mitigation. Schwab is the owner and publisher of The Social Diary.

Warning ** photos, video and writing on this site are the
copyright of the author, The Social Diary, San Diego Social Diary, margomargo.com and Margo Schwab.
no reproduction of any part or parts is allowed without written permission by Margo Schwab